House Points
House Points - half way through the year!
All about our House Points system
We are delighted to have introduced a new House System in school, courtesy of our hard working Pupil Council. The pupils (and staff!) have been divided into 4 houses, based on the names of town lands near our school and each house has also been allocated a colour.
Captains and vice captains have been elected and presented with their badges in a recent assembly and we would ask that these badges are worn every day. The role of house captains will be to provide a link between their house members and school staff and also to assist with the collection and recording of points. Their names are shown below:
| | | | |
| --- | --- | --- | --- |
| House | Colour | Captain | Vice-Captain |
| Sheetrim | Yellow | Bethany | Rachel |
| Cavanagarvan | Blue | Ellie McC | Nathan N |
| Derryhennett | Red | Eva | Matthew H |
| Longnancys | Green | James R | Naomi |
Family members have been placed in the same house, so therefore younger preschool children will join their older sibling's house upon admission to P1.
We have discussed with the children the many ways in which points can be earned, for example displaying:
Good behavior and politeness
Good work, including well completed homework.
Neat writing and presentation
Good listening skills
We will also take into consideration the following:
Wearing proper school uniform consistently
Good attendance and punctuality
General organization, for example remembering PE kits, books, money wallets etc.
Participating in house events such as quizzes, sports competitions and so on.
Representing the school well at external events and activities, such as trips, sporting fixtures or musical events.
Conversely, of course, points may be lost if one or more of the above are not being properly addressed or adhered to. A shield will be presented to the winning house at our Final Assembly in June and a suitable prize awarded to the pupils in that house. We will endeavour to provide up to date points tallies at school Achievement Assemblies, on the House Points display board and on the school website.
We would ask you to discuss with your child the many ways points can be won and encourage them to fully participate. We trust the introduction of our House Points system will further motivate our pupils by providing a healthy sense of competition and also much enjoyment.
News
18th Sep 2017
Congratulations to the following children on their election as captains and vice...

9th May 2017
We had a super time at our recent Inter House Quiz. There were rounds on Fairy Tales,...

Captains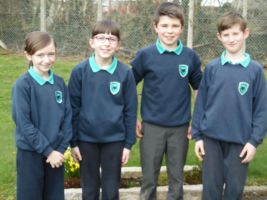 Bethany and James (Sheetrim)
Vice-Captains