What we've been up to....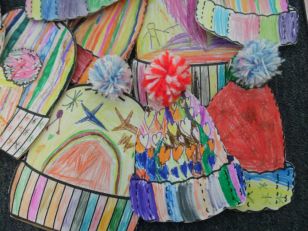 We have been busy in afterschool doing lots of craft and play. We had a LOVEly week making things for Valentines day! We hope everyone loved their things which were brought home.
We also had a couple of 'treat Fridays' where we had delicious homemade waffles and the other week we had freshly made pancakes with all the toppings.
Some photos from After School Club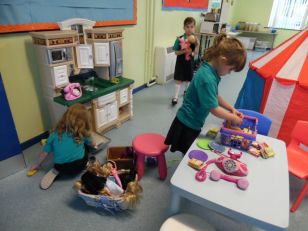 We've had lots of fun in After School Club since September. We have done lots of art and made a great wall display. We also made lots of craft things at Christmas and did some lovely bright Christmas tree pictures.
We have also had plenty time to play on the wii, at the farm, in the house corner and have lots of other games and activities to do.
Before Christmas we had a special treat of waffles, sauce, cream and hot chocolate with marshmallows and cream.
Zumba Time!! @ Kids Club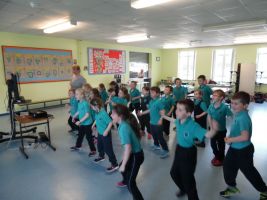 Well we had a great Thursday afternoon keeping fit, doing ZUMBA!!
Everyone joined in and had a great laugh trying to keep up with all the moves!
Even a few extra members of staff wanted to try it out too!!
Next week on 'Zumba Thursday' remember to bring a water bottle if you can but if not we always have cups and jugs of water here.
Looking forward to this being a regular keep fit activity for us all! If your child doesn't usually stay for afterschool club then maybe they'd like to come and try out our Zumba.. Great fun, great exercise!
After School Club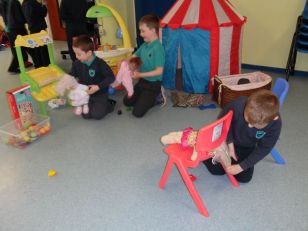 We have had a busy few days in Afterschool club getting things sorted out especially our 'Drumhillery Farm'. We have this set up on some of our afterschool club days and the children have really loved playing with it. We hope to keep adding in animals and other farm features.
While children played, some others made some new buildings with straw in them for the animals and our very own hen house, with some lovely colourful chicks and eggs.
We also have a couple of house areas set up and a train/car area.
Looking forward to lots of fun days in the next few weeks.
After School Club Information

Who? - P1, P2, P3
When? - Mon-Fri
Time? - 2:25 - 3:25 pm
Cost? - £1.50
Children enjoy a snack and a range of games and activities (inside and outside).
Monday- Friday - Pancakes or crackers with a selection of fruit
The most enjoyable activities have been: cookery, art & craft activities, top table games, Lego, Train Set, Football Table and Wii Dance.