Peace 4 Shared Education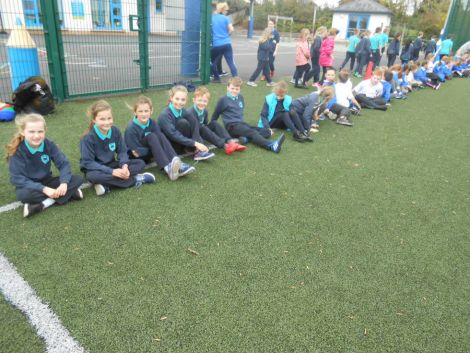 We are delighted to announce that we have been able to secure funding this year for a Shared Education Project with St Joseph's PS under the PEACE IV Collaboration and Sharing in Education. We will be undertaking joint project work over the coming years. Initially we will be involving pupils from P5/6 in a project on Linen, exploring the historic tradition of the Linen Industry in our community and further afield. In Term 2 P1/2 pupils will explore a joint topic on Outdoor Play. Next year other classes will have an opportunity to be involved.
By working in partnership with schools of a different type will have the chance to meet and learn with young people from a wide range of different backgrounds. Our teaching staff will also have this opportunity and through this new shared education partnership we will not only be promoting good relations but also working together to improve educational outcomes for all the children in our community.
We intend to meet with our partner school for different curricular-based activities and shared classes throughout the year and we will keep you informed of the dates and content of all these sessions. You should also keep an eye on the school website for photos and videos.
There will be no charge for any of the shared education activities and children will be travelling by bus to our partner school.
We are very excited about this project and would ask you, as the first educators of your children, for your support in this initiative. We have discussed this at a BOG meeting and it was felt this was a tremendous opportunity for our school.
If you have any concerns about the involvement of your child in shared education, please do not hesitate to contact me and I will be happy to provide more information about our plans.
Preparing the Plants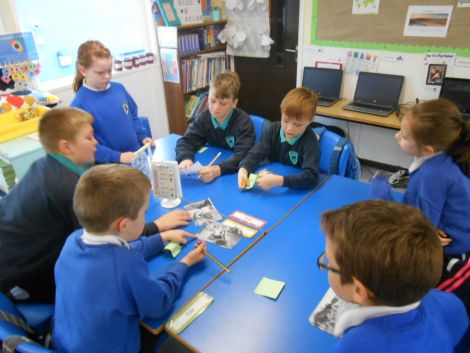 Today we had our 5th session of Shared Education. We investigate 'Preparing the Plants'. We had explored this in action during our Linen Centre visit but today we reviewed what we had learnt. We sequenced the process images and discussed them in groups, then we played a game of human jigsaw to match new words with their definitions. We learnt all about retting, scotching and hackling.
Check out our photographs.
The Linen Centre Lisburn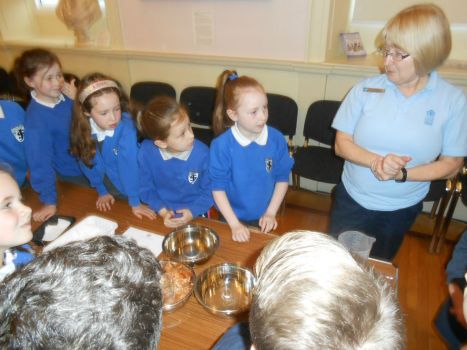 On Friday 9th November Primary 5 & 6 went on their trip to the Linen Centre in Lisburn along with St Joseph's Primary. We had a great time. We learnt so much. We were each able to take part in 3 group sessions.
The first session was the history of Linen. Here we viewed displays and learnt about Linen in the past. We watched a lady spinning the flax and then a weaver working the big machine to create a linen napkin. We watched the process of flax to linen. We recognised how hard of work it was and the many health risks it entailed for the workers many of whom were only children.
In session 2 we got the experience of dying fabric. We learnt how fabric was dyed long ago and we used onion skins, beetle juice and tea to dye our strips of fabric. We also got to try our hands at tie dying. It was great fun.
Session 3 was all about weaving, we used coloured strips of paper to weave beautiful mats. This was tricky to start with but we soon got on to the process. We realised we were only working with paper but how much more difficult it was to weave using linen threads!
Check out our photos.