Mrs Johnston
We are now into the second half of Term 2. The school year is flying by. This half term our topic is 'Living Things in Their Habitat'. This is very science based topic and one that lends itself to the season of Spring. We have planned lots of fun activities and want to get outdoors and explore the habitats around us, we want to investigate new life in both plants and animals.
Keep an eye on our page for all the photographs of us at work!
Safer Internet Day 2019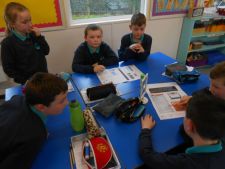 Today, Tuesday 5th February we celebrated Safer Internet Day 2019. We had a great discussion about how to protect ourselves online. All pupils realised that we can use the internet for many things and that it is a valuable tool but they also realised that it can cause harm and can be very dangerous.
We explored a range of activities to learn about permission online, storing and keeping personal information safe along with saying no. We recognised that it is important to treat everyone we come in contact with online with respect as we would treat them in the playground. We also realised that strangers on the internet are not always who they are and we know that we must tell a safe adult if we see, or are asked anything we do not like or is harmful. We also discussed age restrictions and recognised that some games and apps have these in place to protect us and keep us safe.
Check out our photographs of us working!
Egyptian Art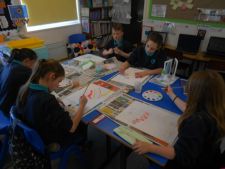 Over the past number of weeks we have been exploring the Ancient Egyptian Dress. We have designed our own Egyptian head dress and costume. We have been very busy today painting them. Keep an eye out in school over the next few weeks for our finished display.
Watch us at work!
Rugby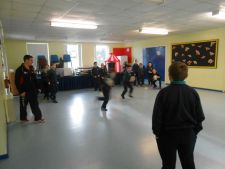 On Wednesday 9th January we started tag rugby with Harry Doyle from Armagh Rugby club. Theses PE sessions are fantastic and we learn so many skills needed to play Rugby along with lots of team building skills and general exercise.
Check out our photographs.
PDMU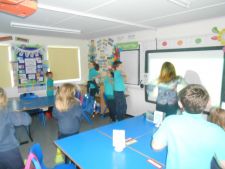 This half term we have had the pleasure of Mrs Jeanie Graham coming into our class every Friday. These PDMU lessons have been great fun and very informative. We have learnt a lot about the dangers of Alcohol, Drugs and Smoking. We have also learnt about peer pressure and the importance of keeping our bodies safe.
Useful Web links for Our Topic
Meet our CLASS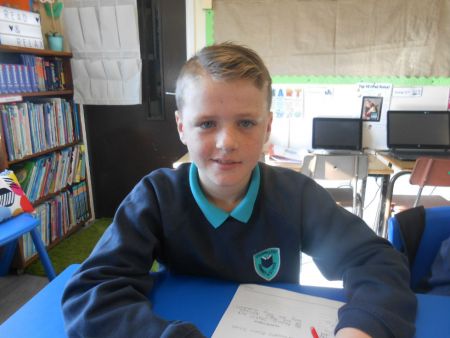 Fire Safety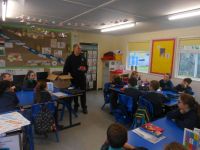 Today we had a visit from fire fighter Brendan. He is based part-time in Keady fire station. He told us all about fire safety. He explained simple actions we can take in our homes to avoid a fire and also what we need to do if we are faced with a fire in our home.
Brendan told us about the word STOP
S - Smoke Alarm, include these on every floor in your house
T - Test alarms every week, keep batteries renewed
O - Obvious dangers, minimise dangers in the home
P - Plan, plan an escape route
We all were given super fire safety packs which include quizzes, stickers and information.
Check out our photographs!
Finding the Volume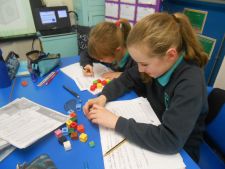 On Tuesday we explored finding the Volume in Numeracy. We carried out 3 separate investigations. Some pupils explored the volume of cuboids by making them with multilink cubes. Some pupils measured the length, width and height of our classroom and calculated the volume of it. The last group of children made nets of cubes of different sizes and then calculated the volume. We all recognised the formula for finding the volume of a given object and used this quite well. We also used the correct unit of measure when we were recording our findings.
Check out the photos of us hard at work!
Measuring and Comparing Length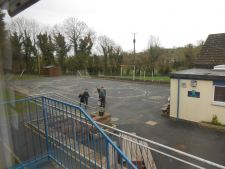 Today we were exploring and reviewing measuring length. We completed a brainstorm of all the knowledge we already know on measuring then we measured 4 objects, a frame, pencil lead, length of our playground and classroom. We had to work in groups to decide which tool to use and then we had to measure.
We then had to compare the units of measure and make sure we could convert between each. It is important for us to remember there are 10mm in 1cm and 100cm in 1m.
Look at us working hard!
Bible Explorer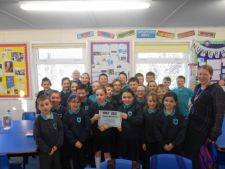 Today we finished our Bible Explorer Program with Jenny McCullough. We walked through the Old Testament. We learnt lots of Bible facts and had great fun.
A big thank you to Jenny for all her hard work.
Sweetie Place Value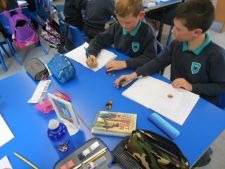 We have been learning about Place Value in Numbers. We know all about Tens of Thousands, Thousands, Hundreds, Tens, Units and Tenths.
To make our learning fun and memorable we used midget gems. We each lifted a handful of sweets and each colour represented a different value.
We loved working out the value and the number we created with our sweets.
Afterwards we loved eating the sweets!
Latest Photographs