Mrs Johnston P5
Welcome back to the start of a new school year! Where did that summer go?
We are all looking forward to a fantastic start to Term 1. This half term our topic is 'Ourselves', it is all about the human body and keeping ourselves healthy.
Keep an eye on our page for all the photographs of us at work!
Meet our CLASS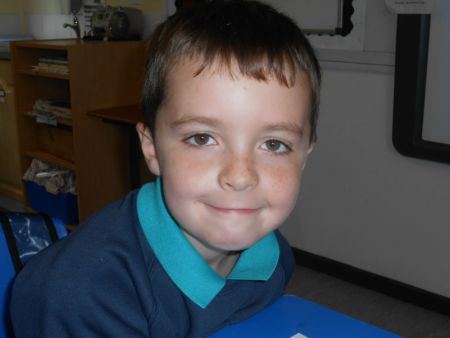 Useful Web links for Our Topic
Measuring Ourselves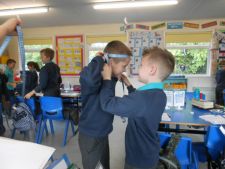 Today as part of our Numeracy we had great fun measuring. We connected it to our World Around Us topic of 'Ourselves'. We worked in pairs to measure parts of our skeleton using tape measures. We measured in CM's. We had lots of fun comparing the different sizes and finding out what size we are.
Check out the concentration and smiles on our faces as we had fun learning.
Sweetie Place Value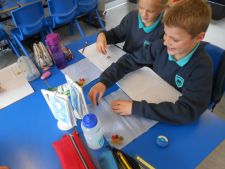 Today we were exploring Number Place Value. We recognised that each number has a value depending upon where it is placed. We were concentrating of 3 and 4 digit numbers. In groups we were given a bag of sweets, each bag contained a mix of colours and each colour has its own value. We had to take it in turns to randomly collect 6 sweets from the bag and work out the number we had created depending upon the amount and colour of sweet. We had great fun and everyone enjoyed making and checking our numbers. It was very hard not to eat the sweets while we worked with them!
Tooth Decay Eggsperiment!!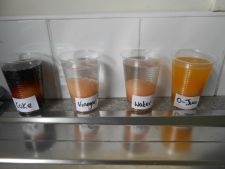 As part of our World Around Us topic we have conducted a science experiment to find out and see what happens to our teeth when we don't look after them properly and drink to much unhealthy drinks. We used 4 hard boiled eggs and placed them into 4 different liquids. These liquids were, vinegar, water, orange juice and coke. We left these for 1 week and then recorded our results.
From the pictures you will see that the vinegar and coke made the shells of the egg rot and disappear while the orange juice was starting to do the same. The water was perfect and so was the egg after a week. We learnt that natural drinks like water and milk are the best for our teeth.
Race to 1000 challenge!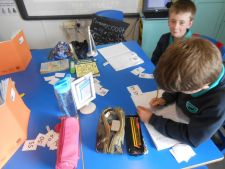 In Numeracy we have been reviewing our ability to add and subtract 3 digit numbers. We completed a race to 1000 using adding. We worked in groups to challenge each other to add 2 3-digit numbers together to see who could get their answer closest to 1000. We had lots of fun working out the sums and seeing who would win each time.
Check us out!
Latest Photographs
Healthy Eating Research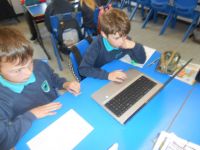 Today we had great fun researching using the iPads and computers to find out as much as we could about Healthy Eating. We are using this information to make our own Healthy Eating leaflets. Today we learnt what we need to include in our leaflets and started to find out facts.
Keep an eye on our page to see our finished leaflets.